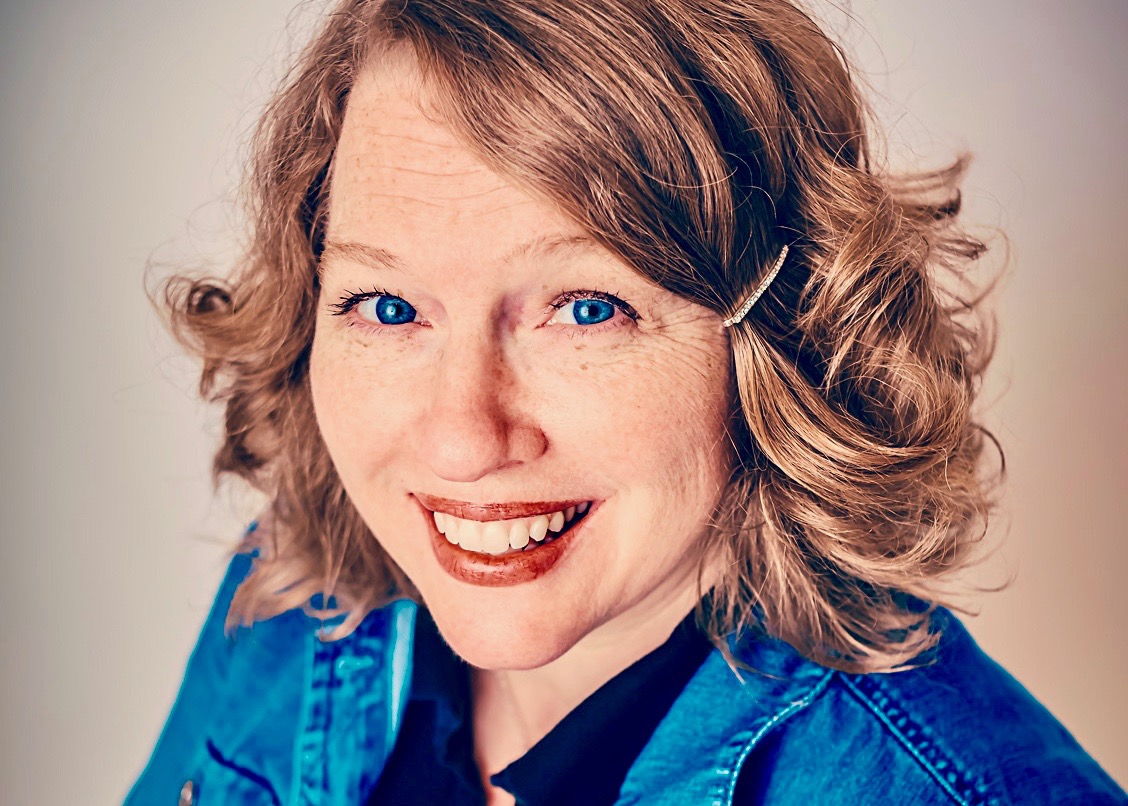 The Lost Husband MOVIE just hit # 1 on Netflix!!
Read all about it HERE!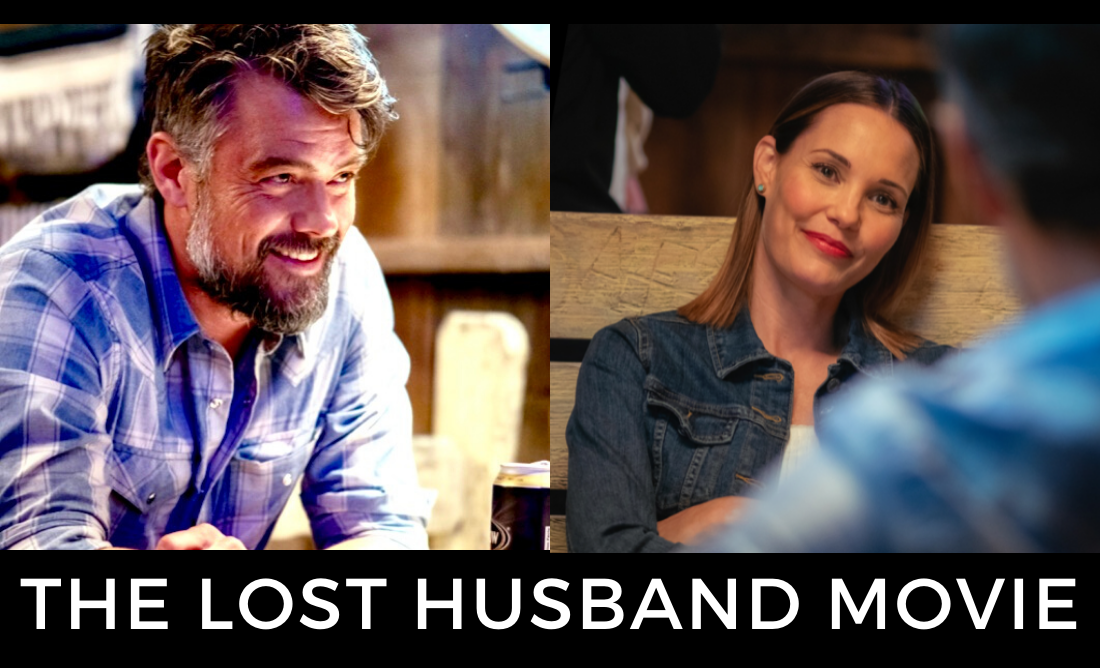 HAPPINESS FOR BEGINNERS has a new cover!!!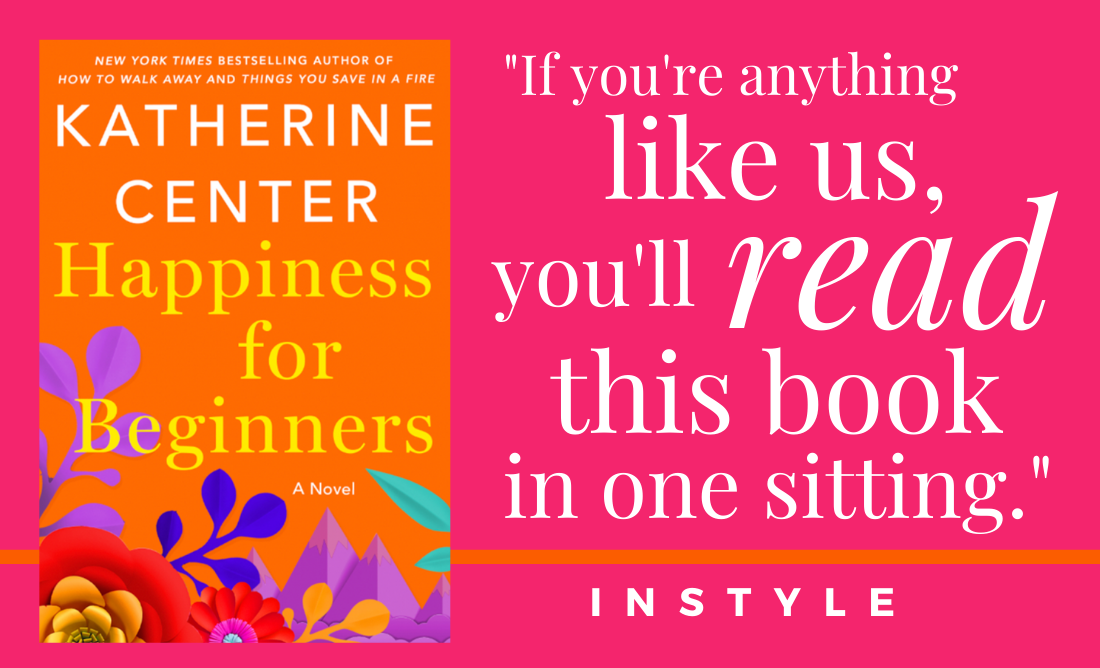 WHAT YOU WISH FOR is HERE!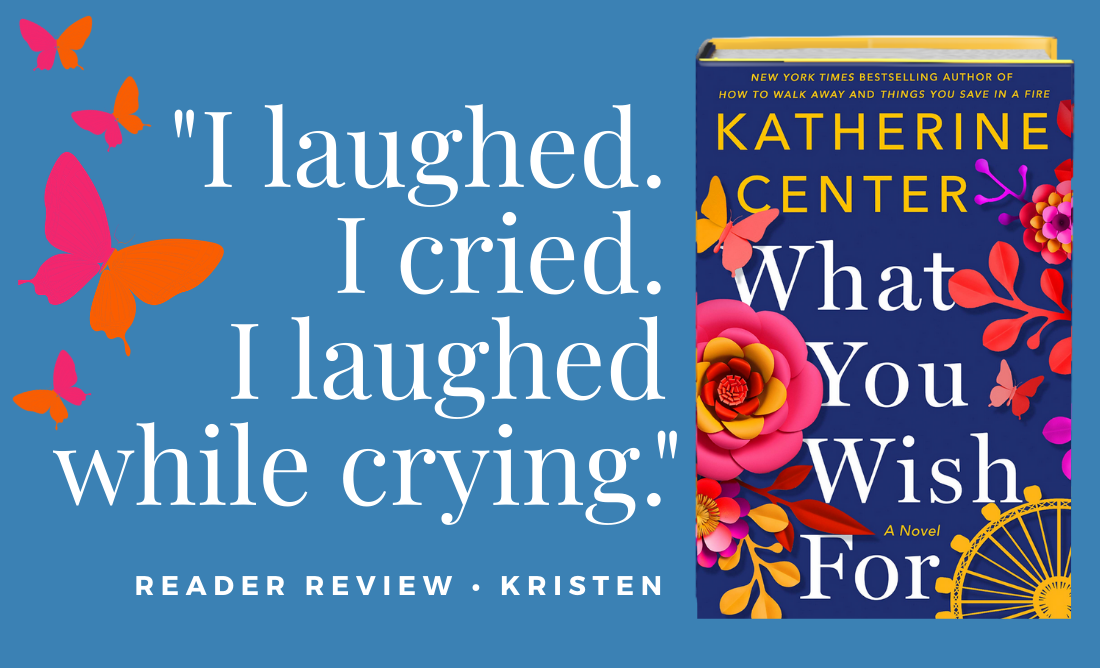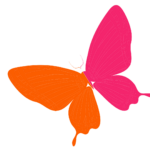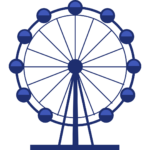 READER REVIEW
J.G. / WHAT YOU WISH FOR
"A beautiful and wise story, and a book I already know I will read again. Katherine Center has now become one of my favorite authors. Read them all!"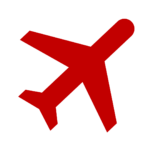 READER REVIEW
ANGIE / HOW TO WALK AWAY
"Wow! I don't know how to describe reading How to Walk Away by Katherine Center without sounding like a major fangirl. This is one of those novels that will become a part of my "desert island library"—books I read and reread over the years because they are comfort food to my soul. I HIGHLY recommend this one."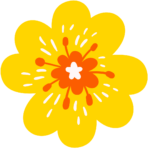 READER REVIEW
RACHEL / THE LOST HUSBAND
"Katherine Center is my new favorite author. She draws you into the story, makes you feel like you are part of the family, and leaves you feeling better about life in general. I cannot recommend her work enough to my family and friends, she is truly one of the most amazing authors I have read."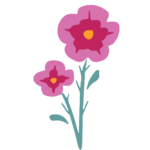 READER REVIEW
BRENNA / HAPPINESS FOR BEGINNERS
"This book completely owned me. I picked it up to read one chapter before bed to see if I was into it and it's less than 24 hours later and I cannot wipe the grin off my face."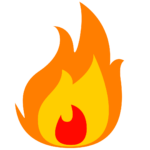 READER REVIEW
CRYSTAL / THINGS YOU SAVE IN A FIRE
"LOVED this one! It was a quick read, but it was filled with love, humor, heartbreak, while being uplifting and empowering! It was a whole lot of feels in one book tied up in a perfect ribbon. So glad I read this one!"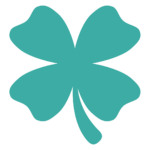 READER REVIEW
Kate / Get Lucky
"The experience of reading her work makes you more optimistic about what the world is capable of."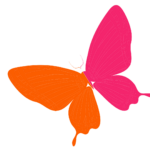 READER REVIEW
STEPHANIE / WHAT YOU WISH FOR
"What You Wish For is storytelling at its finest: a perfect blend of hardships and joy, full of characters that you can not only root for, but deeply relate to . . . Katherine is truly making the world a better place, one book at a time, and I am here for it!"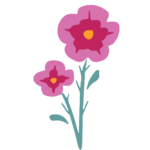 READER REVIEW
JENNIFER / HAPPINESS FOR BEGINNERS
"It is like a sigh of pleasure to read, and I was completely absorbed in the book like I was hearing a story about my possible self or my best friend."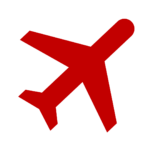 READER REVIEW
STACY / HOW TO WALK AWAY
"This story is tender and bittersweet most of all hopeful. I devoured it in one sitting and I can't wait to tell all of my friends to read it!"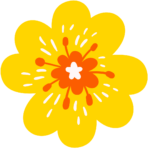 READER REVIEW
SUSAN / THE LOST HUSBAND
"Katherine Center has the extraordinary ability to place her characters in the most difficult situations, and then weave a tale that is filled with heart and humor, turning a sad story into one that is incredibly uplifting."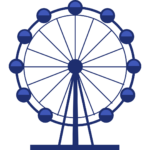 READER REVIEW
MARYANN / WHAT YOU WISH FOR
"This book is simply stunning. Devour it, turn yourself over to it and strap in for the ride because it is a heartrending journey that will give you all the feels. Every single feel."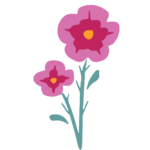 READER REVIEW
STACY / HAPPINESS FOR BEGINNERS
"I read this book in one sitting because I just couldn't put it down! I'm paying for the marathon reading session this morning though. Totally worth it!"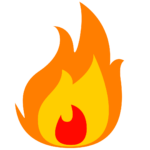 READER REVIEW
MIRNA / THINGS YOU SAVE IN A FIRE
"Things You Save in a Fire by Katherine Center is what I call—from beginning to end—a beautifully crafted novel.I love every single thing about this book. It has an amazing heroine, a great storyline, and a fantastic ending."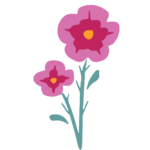 READER REVIEW
TRISH / HAPPINESS FOR BEGINNERS
"I do believe I love each new release by this author more than the last, but at the same time love them all. Read this book, it is wonderful!"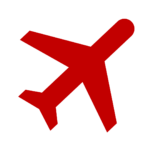 READER REVIEW
MARIA / HOW TO WALK AWAY
"Prepare to be blown away by How to Walk Away, just one of Katherine Center's beautifully, often comically written, bittersweet novels of overcoming tragedy and persevering. I was hooked on the first page, and everything else had to wait while I delved, completely absorbed, into this fantastic book."
BookPage calls Katherine Center "the reigning queen of comfort reads."
She is the New York Times bestselling author of eight novels, including How to Walk Away and Things You Save in a Fire, and her newest, What You Wish For.
The movie adaptation of her novel The Lost Husband (starring Josh Duhamel) hit #1 on Netflix in August of 2020, was in Netflix's Top 25 movies of the year, and was a Top Ten movie in over 30 countries around the world.
Katherine writes laugh-and-cry books about how life knocks us down—and how we get back up. She's been compared to both Jane Austen and Nora Ephron, and the Dallas Morning News calls her stories, "satisfying in the most soul-nourishing way."
Her work has appeared in O Magazine, Vanity Fair, The Atlantic, Redbook, InStyle, People, USA Today, Real Simple and many others—and has made countless Best-Of lists, including RealSimple's Best Books of 2020, Amazon's Top 100 Books of 2019, Goodreads' Best Books of the Year, the Indie Next Great Reads List, and more.
Katherine holds degrees from Vassar College and the University of Houston's Creative Writing Program and lives in Texas with her kind-hearted husband, two hilarious teenagers, and fluffy-but-fierce dog.
For more about Katherine, click HERE!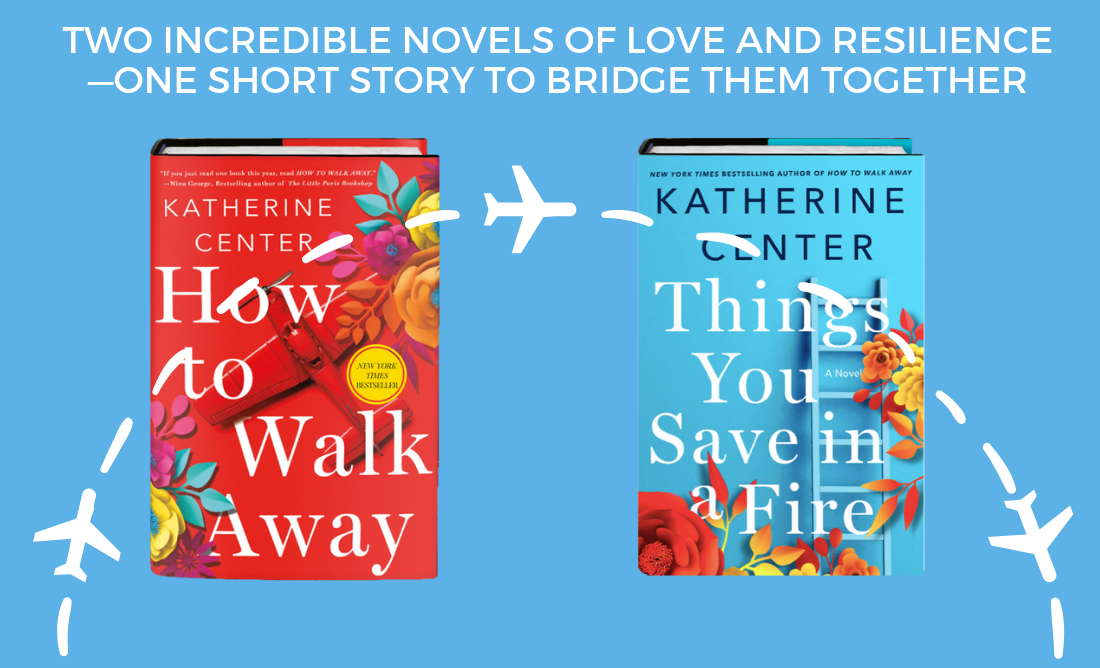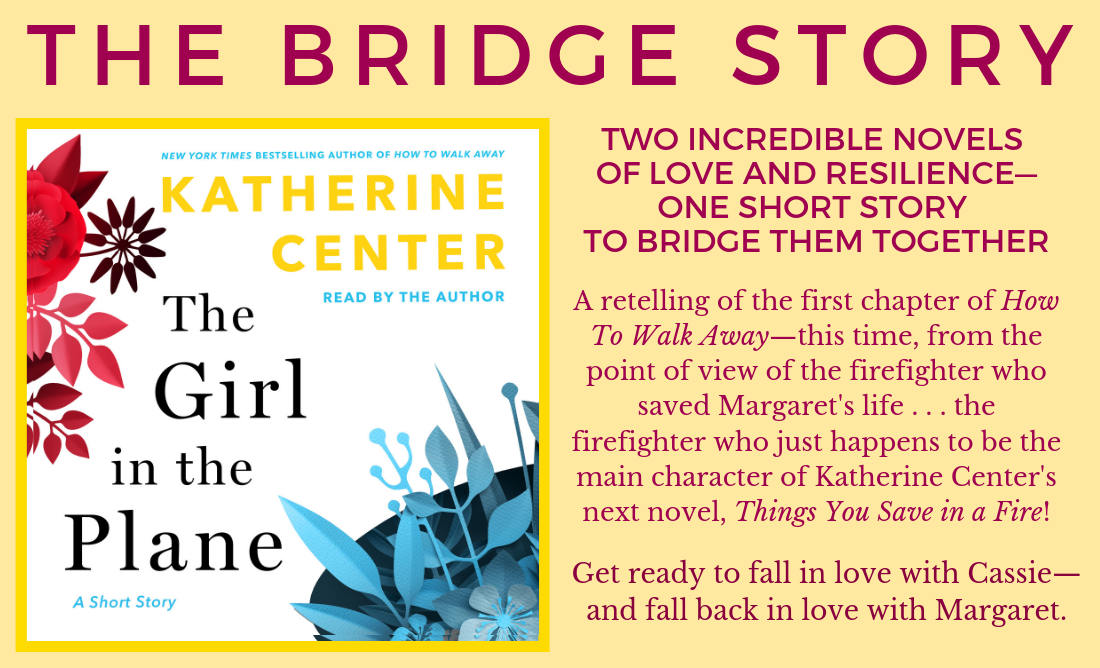 To listen to The Girl in the Plane on audio—read by the author herself!!!—listen on Google Play or on Apple Books.
*** Be sure to check back for other ways of reading/downloading/listening to the story!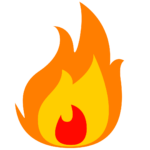 Are you looking for a list of recommended books from Katherine's TEDx Talk? CLICK HERE!
Three Good Things
FUN FOR YOUR INBOX
Three Good Things is a quarterly(ish) newsletter full of amazing stories, podcasts, songs, movies, TED talks, and other goodness that Katherine has found and can't wait to share.
Speaking
HOW WE TELL OUR STORIES
Katherine is also a speaker abouts storytelling, resilience, and how we can tell the best stories of our lives.  She speaks anywhere and everywhere, from luncheons to book clubs to corporate events.